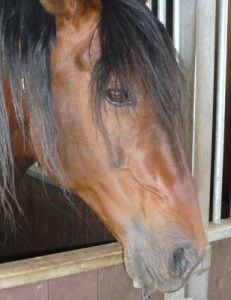 Oyon
Andalusian ( PRE ) Stallion at Stud
Mahogany Bay 16.1hh
Oyon is fully registered and graded for breeding. All progeny are eligible for registration with the British Association for the Purebred Spanish Horse in either the PRE, Hispano or partbred register. He has a superb temperament and movement which he passes on to his youngstock.
Oyon is ideal for breeding purebreds and crossing with most breeds including large natives, Thoroughbreds, Arabs and Warmbloods.
Oyon has a wonderful temperament and is very easy to handle and gentle with his mares. He is broken to ride and is happy to hack out with mares and geldings. These days we don't ride him preferring to let him run out with his mares and foals. He is a wonderful dad and really loves looking after his babies.
Oyon has stunning, athletic movement. He was bred by Senorio de Bariain who is renowned for breeding dressage horses with wonderful movement and was imported from Spain in 2001.
Oyon is ideal for crossing with many different breeds of mares. Cobs, Coloured, Warmbood, Thoroughbred, Dale and Arab to name but a few. We usually have youngstock by Oyon available to good homes.